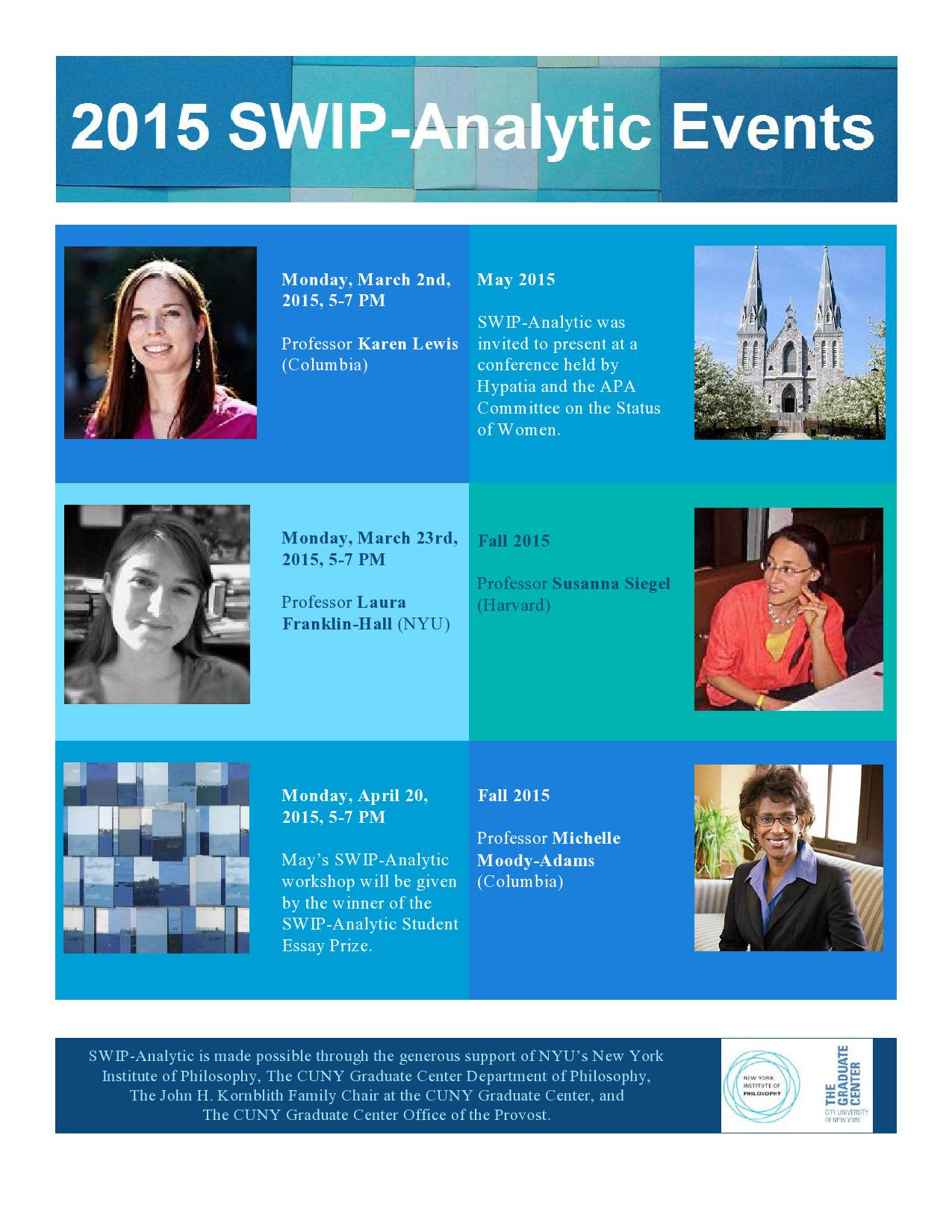 Monday, March 2, 2015, 5:00 – 7:00 PM

Professor Karen Lewis (Columbia) will present "Reverse Sobel Sequences in Static Semantics" in Room 302, NYU Philosophy Department, 5 Washington Place, New York City. (Details above.)
Monday, March 23, 2015, 5:00 – 7:00 PM

Professor Laura Franklin-Hall (NYU) will present "Why are some kinds historical and others not?" at the Graduate Center, CUNY Philosophy Department, 365 5th Avenue, New York City.
Monday, April 20, 2015

The winner of the SWIP-Analytic 2015 Graduate Student Essay Prize will present at SWIP-Analytic Spring 2015. View CFP here.
May 28-30, 2015

SWIP-Analytic organizers Marilynn Johnson, Lisa Miracchi, Kate Pendoley, and Katie Tullmann will be presenting a panel entitled "Challenging the Canon" at the Hypatia conference, Exploring Collaborative Contestations, at Villanova University, May 28-30, 2015. The event will be held in conjunction with the APA Committee on the Status of Women Diversity Conference. View the event CFP here.
Fall 2015

Professor Susanna Siegel (Harvard) will present at SWIP-Analytic Fall 2015.
Monday, October 5, 2015
Professor Michelle Moody-Adams (Columbia) will present at SWIP-Analytic Monday, October 5, 2015.
SWIP-Analytic continues the Society for Women in Philosophy's commitment to being a resource for all women in philosophy by providing a forum for women working in language, mind, metaphysics, logic, ethics, epistemology, and philosophy of science.
Everyone (men & women, philosophers & non-philosophers) is welcome at our public events. Please contact us at swipanalytic@gmail.com with any questions or to discuss possible accessibility accommodations if needed.
If you would like to subscribe to our email list please write to swipanalytic@gmail.com with the subject 'subscribe'.